I want to start of today with something that I don't normally delve into, and yet has caught my particular interest lately. Casting news. It all started when my friend Dave sent me a link about Quentin Tarantino's new, soon-to-be masterpiece, film,
Inglorious Bastards
. Apparently one of my favorite directors, Eli Roth (hate mail graciously accepted), has been
cast
in the movie in what appears to be a pretty major role. Now I couldn't be more thrilled because not only is Eli an amazing director but I thought that his brief moments in Tarantino's latest film, Death Proof, were awesome as well.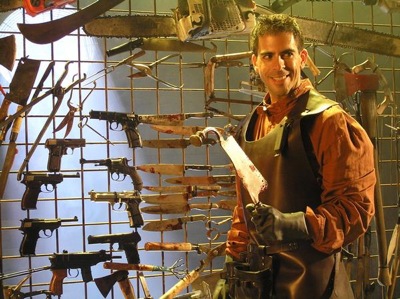 This got me delving into who else Tarantino wants to cast in his next big feature, which is a World War 2 epic with an ensemble cast. As of yesterday, here is what the reports are.
Brad Pitt has been cast as a hillbilly Nazi hunter (just typing that gets me so stoked for this movie). Simon Pegg and B.J. Novak are also in talks about joining, which is great because I am already a big fan of their work.
As for a totally unrelated movie casting, I also just found out that Natalie Portman is supposedly going to star in a remake of Dario Argento's 1977 horror classic
Suspiria
. I, for one, am not as down on all the recent Hollywood horror remakes as most people, but Suspiria seems like a really strange choice for that kind of thing. What makes the 1977 one so incredible is the art of the directing, which obviously isn't going to be the same. I guess we will just have to wait and see. For anyone particularly interested in horror as a genre I would highly recommend checking out the original Susperia, it is kind of a must watch, even just for educational purposes.