Forgive me if I sound like a rabid fan, or fanatic if you will, but I can honestly say that my all time favorite books are as follows:
1) American Psycho by Bret Easton Ellis
2) Glamorama by Bret Easton Ellis
3) The Rules Of Attraction by Bret Easton Ellis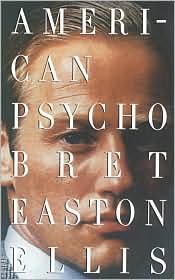 The only gray area on here is that I actually might think that Glamorama is better than American Psycho, which is something that I switch around from time to time. I think that I am going to have to read them both once again to truly figure it out for myself, but for right now I am going to give American Psycho the top spot.
The point I am trying to illustrate, though, is that I love Bret Easton Ellis. The man is beyond genius, and is an icon in the world of
transgressive art
. The forty four year old author had his first novel, Less Than Zero, published in 1985 when he was just a 21 year old college student, to rave reviews and critical acclaim. It's a great, stylishly compact little book that was quickly turned into a film starring Robert Downy Jr. Unfortunately that particular movie has pretty much nothing in common with the actual novel besides the character names.
His most noted work is the book American Psycho, which was the subject of much controversy for it's graphic violence and perceived misogynistic message. What it really is, in fact, is one of the most scathing and witty cultural reviews ever published, told through the eyes of a fascinatingly vacant and utterly unreliable narrator. The book generated so much of an uproar that it was dropped by Ellis's publisher, Simon & Schuster, but later picked up and released by Vintage. Many younger people have come to know the book though it's more recent film adaption starring Christian Bale. While the movie, like most, absolutely pales in comparison to the book, it is a great film and Bale does an amazing job. Unfortunately, if you were to truly capture the novel American Psycho on film, it would simply not be releasable.
This is an interview with American Psycho director Mary Harron, Christian Bale and Bret Easton Ellis on the Charlie Rose program. It's pretty long but very informative and worth the watch.
By now much of Ellis's work has been transformed for the big screen, and the next thing coming down the pike very shortly is a film called The Informers.
The Informers is actually the only one of Ellis's books that I have never read, although I still know a lot about it. It is a collection of short stories that take place in California and follows a similar aesthetic vein to Less Than Zero or even Rules Of Attraction. It seems like most fans of the book consider a particular story about someone who thinks they are a vampire stalking the streets of Los Angeles as one of the best parts, and rumor has it that that entire section has been dropped from the film. Bummer. Anyway, here is the trailer that was just recently released, I really don't know how I feel about it just because Bret's stuff works so well with an edge of humor and irony and this makes the movie look pretty, well, dismal. Of course, I mean dismal in the best possible way, but dismal none-the-less. I suppose only time will tell.